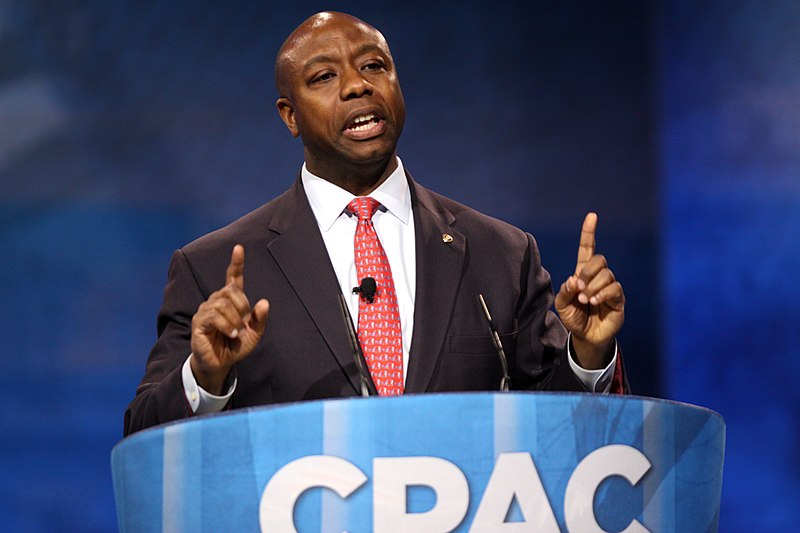 Republican US Senator Tim Scott has officially entered the race for the 2024 presidential election, as reported in a filing with the US election regulator. Scott's decision
to run reflects his belief that a message of unity and optimism can resonate with voters, even in a party that often leans towards confrontational politics. Scott, who grew up in poverty with a single mother, frequently highlights his personal journey as a testament to the promise of America.
Diverging from other declared and potential candidates, such as former President Donald Trump and Florida Governor Ron DeSantis, Scott presents a sunny and positive demeanor. While Trump and DeSantis paint a picture of a declining nation in need of rescue from a corrupt elite, Scott's approach focuses on fostering unity and rejecting divisive rhetoric.
As a Black conservative, Scott stands out in a political landscape where racial divisions often prevail. In the 2020 presidential election, 92% of Black voters supported Democrat Joe Biden, while 55% of white voters backed Trump. Scott has criticized Trump for racially insensitive comments and has opposed some of his judicial nominees for the same reason. Simultaneously, he has accused Democrats of exploiting racial tensions for partisan gain.
Despite the challenges, Scott remains undeterred as he embarks on his presidential bid. Polling averages indicate that only about 2% of Republicans plan to vote for him in the primary, with higher support for Trump and DeSantis. However, Scott's prospects may be stronger than they appear, given his strong popularity and recognition in his home state of South Carolina. South Carolina plays a pivotal role in the Republican nominating process, being the third state to cast its ballots.
Scott also benefits from a robust network of donors, including consistent support from Larry Ellison, co-founder of Oracle. Additionally, Republican donor Andy Sabin has switched his allegiance from DeSantis to Scott, citing concerns about DeSantis' electability.
While Scott maintains a solidly conservative voting record, he distinguishes himself with a focus on compassionate conservatism. He emphasizes policies such as the creation of opportunity zones to revitalize disadvantaged communities and tax credits for low-income families with children. Scott was also entrusted by Republican leaders to develop police reform legislation in response to nationwide protests following high-profile police killings of Black individuals. Although bipartisan negotiations faltered, Scott continues to champion his vision of compassionate conservatism on the campaign trail.
Scott's candidacy places him in direct competition with Nikki Haley, the former governor of South Carolina, who launched her campaign earlier this year. Both candidates are vying for the support of similar donors and elected officials, and winning their home state is crucial for their nomination prospects. Photo by Gage Skidmore from Surprise, AZ, United States of America, Wikimedia commons.