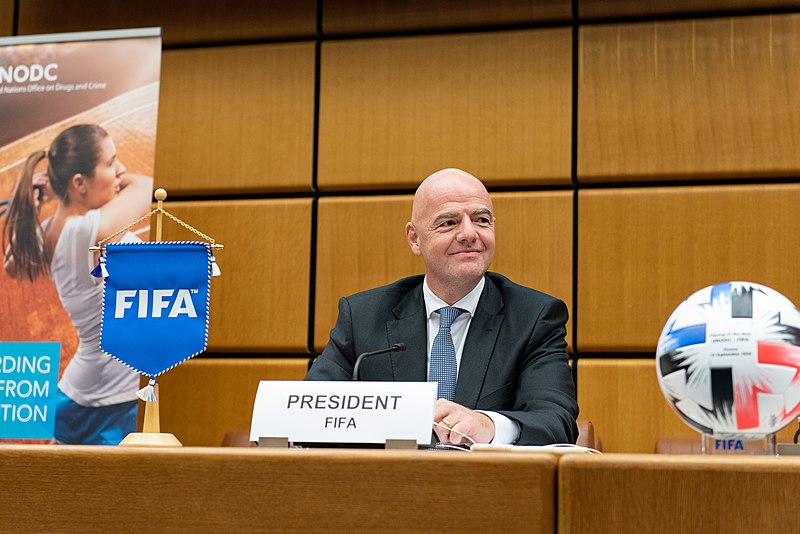 FIFA has unveiled a collection of eight armbands that team captains can wear at the upcoming World Cup in Australia and New Zealand. Among the armbands is one featuring a heart design in
rainbow colors, resembling the "OneLove" armband that European teams were prohibited from wearing during last year's men's tournament in Qatar.
FIFA President Gianni Infantino expressed the importance of using the World Cup as a platform to highlight significant social causes, including inclusion, gender equality, peace, ending hunger, education, and combating domestic violence. This marks a notable shift in tone from FIFA's previous stance, where it disallowed European teams from wearing armbands in support of the LGBTQ+ community during the World Cup in Qatar due to concerns of offense to the host country.
Last year's decision sparked controversy and backlash, leading to players and politicians finding alternative ways to show support for LGBTQ+ rights. However, with the upcoming World Cup being held in countries where homosexuality is legal and FIFA no longer feeling the need to appease the hosts as it did with Qatar, it was unlikely for a similar mistake to be made.
Notably, this year's World Cup features openly LGBTQ+ players, such as Megan Rapinoe of the USWNT, Sam Kerr of Australia, and Alexia Putellas of Spain. The inclusion of these prominent LGBTQ+ athletes and their support systems meant that any endorsement of discrimination would not be tolerated.
FIFA collaborated with players, the 32 qualifying federations, and the United Nations to determine suitable messages for the captain's armbands. Alongside the inclusion armband, there are armbands promoting indigenous rights, the fight against violence towards women, gender equality, and education for all.
In addition to the armbands, FIFA will showcase these messages on LED boards surrounding the field and stadium scoreboards throughout the tournament. The approved armbands and causes for the 2023 World Cup are as follows:
1.Unite for Inclusion – in partnership with UN Human Rights
2.Unite for Indigenous Peoples – in partnership with UN Human Rights
3.Unite for Gender Equality – in partnership with UN Women
4.Unite for Peace – in partnership with UNHCR, the UN Refugee Agency
5.Unite for Education for All – in partnership with UNESCO
6.Unite for Zero Hunger – in partnership with the UN World Food Programme
7.Unite for Ending Violence Against Women – in partnership with UN Women
8.Football is Joy, Peace, Love, Hope & Passion – in partnership with WHO (World Health Organization). Photo by United Nations Office on Drugs and Crime, Wikimedia commons.