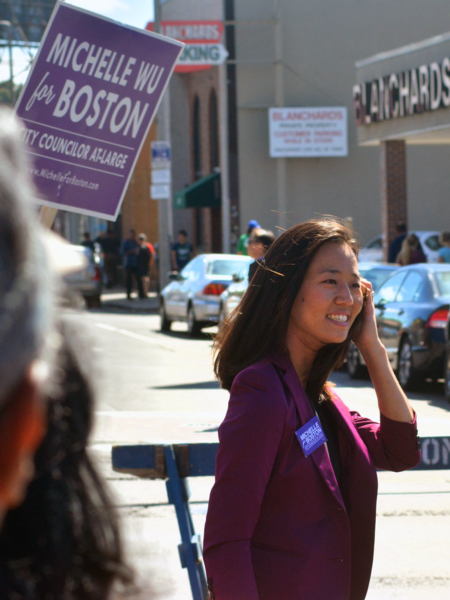 Mayor Michelle Wu and the Mayor's Office of Arts and Culture, in collaboration with the Boston Cultural Council (BCC), today announced 160 arts and cultural organizations have been awarded
grants totaling $626,000 through this year's Boston Cultural Council grant program.
"Boston's arts and cultural organizations play a vital role in ensuring everyone in our city has access to opportunities for creative expression and cultural celebration," said Mayor Michelle Wu. "This continued investment is an important step in building a sustainable and thriving arts ecosystem in Boston."
The Boston Cultural Council (BCC) works under the umbrella of the Mayor's Office of Arts and Culture to annually distribute funds allocated by the City of Boston and the Mass Cultural Council for local arts and cultural programming. The BCC distributes grants for general operating support to organizations with budgets under $2 million that offer arts or cultural programming in Boston, and helps to ensure that the City's grantmaking responds to the needs of the cultural community. This year's total of $626,000 in grant funding consisted of $297,200 from Mass Cultural Council, $250,300 from City funds, and an additional $78,500 from the Boston Red Sox to support Fenway-based organizations.
"As a participatory grant-making body, the Boston Cultural Council believes that through supporting a vibrant and equitable arts ecosystem in the city, and committing to effecting positive change, we together can inspire the transformative arts landscape that our communities need and that artists can grow within, said Jennifer Falk, Chair of the Boston Cultural Council. "We celebrate all our awardees and their unwavering commitment to value artistic expression in all forms as a necessary language of the human condition."
Grantees receive $2,000, $3,500, or $5,000 grants depending on the organization's budget size. In 2021, the BCC made the decision to shift the funding structure so that organizations with the lowest budgets receive the highest grant amounts. This funding strategy aims to better support emerging to medium-sized organizations who typically do not have scaled fundraising initiatives to support their programming.
"Nearly half of this year's BCC grantees fall under the smallest budget tier, and many are receiving grants from us for the first time," said Kara Elliott-Ortega, Chief of Arts and Culture. "We're excited to continue expanding access to creativity and diverse arts and cultural programming across the city."
The BCC focused on small to mid-sized organizations that uniquely serve the City's arts ecosystem and prioritize cultural diversity, economic diversity, inclusion, and equity, through both their staffing and audiences served. Nonprofit cultural organizations whose missions or programming are focused on music, film and video, traditional and folk art, visual art, theater, dance, humanities, literary arts, performing arts, social/civic practice, and multidisciplinary arts were eligible to apply as long as they were based in the City of Boston, or offered programming in Boston.
87% of grantees are based in Boston and 27% are receiving Boston Cultural Council grants for the first time. Nearly $14 million of grantees' total operating budgets goes toward paying artists.The breakdown of grantee organizations by discipline is as follows:
Music (28.8%)
Multidisciplinary Arts (21.9%)
Dance (12.5%)
Performing Arts (7.5%)
Visual Arts (6.3%)
Traditional and Folk Art (6.3%)
Social/Civic Practice (4.4%)
Theater (4.4%)
Film and Video (3.1%)
Literary Arts (2.5%)
Humanities (2.5%)
"Artisans Asylum is thrilled and thankful to have this financial support from the Boston Cultural Council," said Antonio Viva, Executive Director of Artisans Asylum. "We hope to inspire makers from all backgrounds to explore their creativity and bring their inspired ideas into form. As we welcome makers from around the greater Boston community, this grant will help us with our commitment to providing access to classes and programs.
"The Boston Cultural Council's grant to the International Women's Writing Guild provides extraordinary support for our young writers in Boston and our ability to support their literary goals," said Michelle Miller, Executive Director of International Women's Writing Guild."These young poets and storytellers have written together about racial identity and social justice, providing inspiration and accompanying lesson plans for generations of students to come!"
The City of Boston will celebrate this year's grantees at a reception on Wednesday, May 10 from 6:30-8 p.m. at Artisans Asylum. See the complete list of grantees here. Photo by Ethan Long, Wikimedia commons.