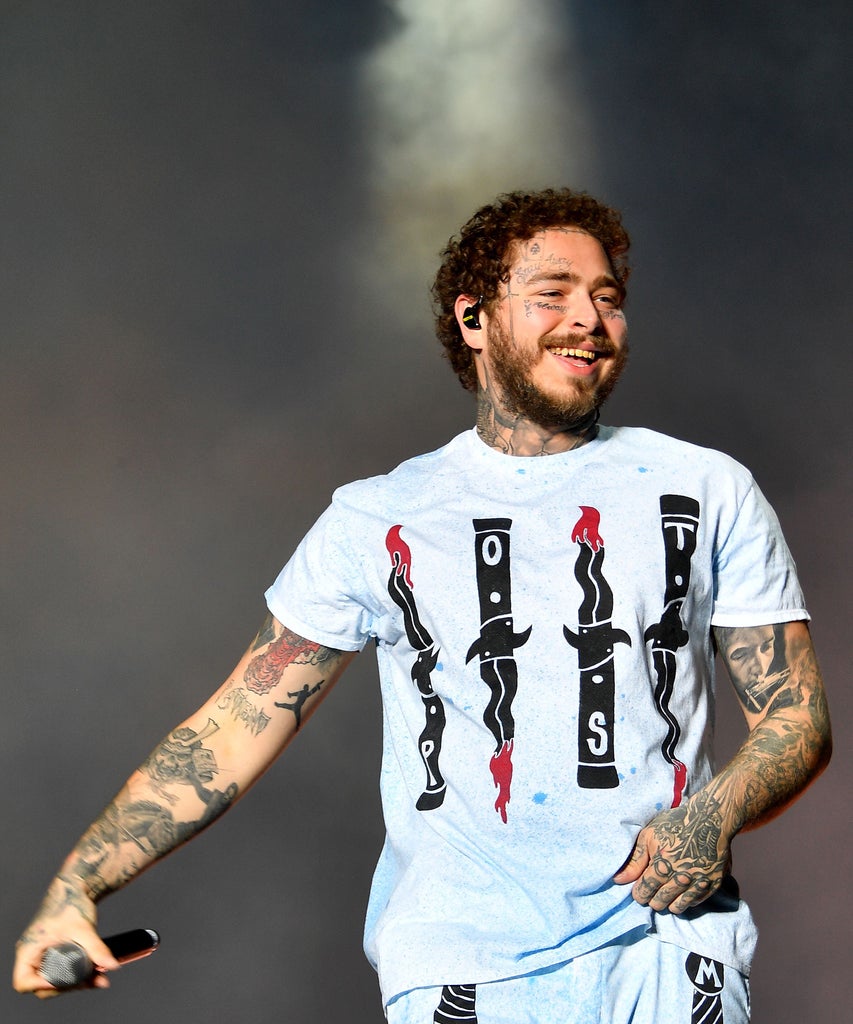 Every generation has its rabble-rousers. Post Malone is beloved by Generation Z. His new album, Hollywood's Bleeding, is already projected to debut at No. 1 and is the second largest debut of the year, just behind Taylor Swift's Lover. But there's one song people can't get enough of: "Take What You Want." Maybe it's because it's one of those infectious songs that gets wildly popular, or maybe it's because he put Travis Scott and Ozzy Osbourne on the song, in a combination that only Post Malone could come up with.
Fans enjoyed "Take What You What," with many on social media praising the inclusion of Osbourne's vocals on the track.
Posty adding Ozzy Osbourne and Travis to his song pic.twitter.com/fRbkyNFLg5

— #StartStarkel (@brycejallday) September 6, 2019
Ozzy Osbourne walking out the booth after recording "Take What You Want" #HollywoodsBleeding @PostMalone pic.twitter.com/biojLe3njT

— Simulation🖥💽 (@seth1_lord) September 6, 2019
how i felt hearing ozzy on take what you want pic.twitter.com/3GF0ffZv83

— roberto (@ikilledroberto) September 6, 2019
Now, social media is blowing up with young Zoomers wondering aloud, "Who is Ozzy Osbourne?" and thanking their boy Posty for breaking this dude's career — and igniting a generational controversy that has become a snake eating its own tail.
who tf is ozzy osbourne ???!??! this is why I love post malone for shining light on unknown artists

— Edd (@Edxxard) September 6, 2019
don't know who this ozzy osbourne guy is but shoutout post for puttin him on

— augie (@AAUGIEE) September 6, 2019
As the youths discovered Osbourne for the first time, the olds clutched their pearls.
Ozzy Osbourne was snorting lines of ants with Motley Crue before your father was having wet dreams about your mother.

— Joshua Weikel (@MovieGuru83) September 6, 2019
There's really kids out here asking who ozzy osbourne is, and saying post malone discovered him.

This actually hurts lmfao.

— panic chord central (@_andrewxnj) September 7, 2019
Now, people are making meme jokes about Post Malone featuring unknown artists on his album, because it's easier to laugh than to cry.
Ozzy Osbourne didn't get his first Post Malone feature until the age of 70. It's never too late. #giveyourselftime

— Eduardo Cepeda (@EduardoSCepeda) September 8, 2019
So, who is Ozzy Osbourne, exactly — and why should you care about him (outside of love for Posty)? For those who may be unfamiliar, John Michael Osbourn, known as Ozzy, is the English vocalist for Black Sabbath, a metal band that was big in the '70s and '80s. Black Sabbath are known for hits such as "Paranoid" and "Iron Man." Osbourne himself is a character: he once bit the head off a dead bat on stage, which is less cruel than the time he got drunk and bit the heads off two live doves. Among his other antics, Osbourne also peed on the Alamo Cenotaph in 1982 and fed hash-laced cake to a church vicar. He starred in an MTV reality TV show about his family called The Osbournes in the early '00s that was wildly popular, bringing us the TV legacies of Jack and Kelly Osbourne. The show was a hit, mainly because Osbourne was a hilariously devoted, if drug-addled dad.
Most recently, Osbourne got a bit of a feature when that mythical moment where he allegedly snorted a line of ants while touring with Mötley Crüe was featured in the Netflix take on their history, The Dirt.

This collaboration could only have come from Malone, who today, inspires confusion and scorn the same way as Osbourne did in his heyday. Does Malone, with his face tattoos and genre-bending music, fancy himself as today's Ozzy Osbourne? It's possible — minus the animal head-eating, of course.
Like what you see? How about some more R29 goodness, right here?
Stormi Webster's Red Carpet Debut Is A Mood
Jordyn Woods Is In The New Travis Scott Doc